Bratz: Pampered Petz is a 2010 American computer-animated film based on the Bratz doll line manufactured by MGA entertainment. Directed by Bob Doucette and written by Sindy McKay, it is the 13th instalment in the Bratz film series. It stars Britt McKillip, Britt Irvin, Maryke Hendriske and Dorla Bell reprising their roles from previous films, along with new additions such as Sam Vincent and Garry Chalk.
Synopsis
When Lola, a friend of the Bratz Girlz, is faced with eviction for harbouring animals that she has rescued, the Bratz must combine their brainpower and talent to save them. The result is a hot rhythm benefit concert staged with the intent to find homes for all of Lola's adorable Petz. To assure their success, the Girlz accessorize and bling-out the Petz in true Bratz style.
Plot
The owner of the 'Mud Springs Health Spa' phones Jade to tell her she loves the accessories she sent her and invites her to set up a booth at the spas fashion boutique the next day. She is thrilled and the girls throw a sleep-over to celebrate.
Cloe, Jade, Sasha and Yasmin's celebrations are interrupted when a man outside screams for help. The girls run outside to find Joe chasing Jinxy, a small monkey who had stolen some important house plans. Yasmin picks up the monkey as Mr Grunion, Joe's boss joins them and introduces himself. He tells the girls he is planning on building a new house nearby and apologises for the noise. The monkey leads Cloe and Yasmin to a house where they meet Lola, Jinxy's owner and her pet Corgi Annie. Lola thanks the girls for returning Jinxy to her and invites them inside to meet the rest of her pets.
Jinxy and Annie wonder off into the yard where through a fence they spy on the house next door. Mr Grunion and Joe are busy digging in the garden. Jinxy overhears their plans to demolish the house and turnit into a mansion. When Mr Grunion notices Jinxy he attempts to throw him out, but is stopped by Annie who jumps to her monkey friends defence.
Yasmin and Cloe meet the rest of Cloe's animals. She has dozens, all rescued from a local dog pound before they were euthanized. Yasmin offers to take some of the animals to the local no-kill shelter, but Lola tells her the shelter is full. Yasmin asks if she has any family that could help her and she tells the girls about her daughter Celia who works in the city as a lawyer and doesn't have time to visit Lola.
Yasmin offers to help Lola with her animals and tells her she will be back in a few days to help. Whilst the Bratz girls are on their way to the Mud Springs Health Spa, the police arrive at Lola's house and warns her that the legal amount of pets allowed in Stilesville is three and that by keeping all her pets in her house she is breaking the law. They inform Lola that she has 72 hours to get rid of all but three of her animals, or the remaining animals will be forcefully taken to the county pound.
The Bratz visit Lola who tells them what happened. They suspect that Lola's neighbour, Mr Grunion may have reported her to the police, but Lola denies it, believing him to be a good person. Yasmin and Cloe volunteer to stay behind and help Lola with her animals whilst Jade and Sasha go to set up Jade's booth at the spa boutique.
At the health spa Sasha and Jade meet Dan, an attendant who works at the spa. He shows the girls around the spa. There is a workout room, golf carts so they don't have to walk anywhere, a facial terrace with yoga mats and mud springs. Jade wants to get right into work, but Sasha insists they have some fun first.
Whilst Sasha and Jade relax at the spa, Sasha and Yasmin give Lola's pets a makeover to make them more appealing to possible adoptees. Whilst helping Lola put away a pile of boxes Jinxy knocked over, Cloe finds an album called Mambo Mania with Rico & Dolores, an album by Rico and Dolores Reyes. Lola reveals she used to be a famous singer who toured the world. She worried about Celia not having a normal childhood, so sent her away to a boarding school so she could get a better education.
Mr Grunion visits Lola and is attacked by her pets, who steal his toupee. He tells Lola he was worried about the police coming to visit and wanted to check if everything was okay. When Lola tells him what happened he offers to her find another house where she could keep her pets, but Lola refuses to move.
At the spa, Sasha and Jade fall asleep in the mud bath and almost miss the boutique. They don't have time to shower off and have to serve customers covered in mud, which results in them not making any sales.
Yasmin and Cloe put up posters advertising the pets as being available to adopt, but every poster is torn down by Joe on Mr Grunions orders. He tells customers Cloe and Yasmin are adopting strays and the pair are bombarded with extra pets which they are then forced to take back to Lola's home. The police arrive at Lola's home to serve have an eviction notice. She has to leave within 48 hours or she will be removed from the premises.
Yasmin and Cloe go to visit Lola's daughter Celia to see if she can help them. However Celia acts cold towards them and tells them she wants no part in it. She remembers being sent away to boarding school and how much it hurt her to leave her parents. Because of this she doesn't have a close relationship with her mother and has no interest in helping her.
Back at the house, Jinxy steals Joe's blueprints again the girls realise they're blueprints for Miss Lola's house. Mr Grunion is planning to build a garage on Lola's land to go with his new mansion. They realise he was the one who called the police, although Lola still insists he is a nice person.
The News 9, Stilesville's local radio station, knocks on Lola's door for an interview and insults her by calling her crazy and a recluse. The girls realise that Grunion called the news on Lola. They decided to turn the publicity into something good and throw a comeback concert for Lola, offering free tickets to whoever agrees to adopt a pet.
Whilst the Bratz are rehearsing for the concert Joe and Grunion break into Lola's house and steal her pets. When Yasmin goes to collect the pets she realises they're gone. Whilst Sasha calls the police, Cloe goes to visit Celia to see if there's anything she can do, but Celia can't help her. Cloe shows Celia Lola's scrapbook of her daughters life, although Celia is moved to know that her mother does care about her she still refuses to go to the concert.
Whilst guarding the stolen animals, Joe is distracted by Annie doing tricks and Jinxy helps all the animals escape. Jinxy steals Grunions cars and drives it to the concert with the pets inside. The Bratz perform with Lola to huge applause. Almost all of the animals are adopted and almost all of Jade's accessories are sold out. However Miss Lola still has five animals left, 2 over the legal amount allowed in Stilesville. Celia arrives and reunites with her mother. She offers to adopt one of the animals as does Yasmin, Cloe, Joe and Officer Blythe. Celia buys Lola's house from her landlord and with the girls help turns it into an animal shelter.
Cast
Characters
Soundtrack
Trivia
Yasmin reveals in the movie that she volunteers at the no-kill shelter every Monday.
In Lola's scrapbook there is a picture of Celia dressed as Cinderella. Yasmin played Cinderella in her school play as revealed in Bratz Kidz: Fairy Tales.
Lola has a pet frog, Yasmin normally has a pet frog in the film. This also weirdly, makes this the fourth Bratz movie in which a frog has appeared.
Yasmin reveals that her parents met at a club where Dolores and her late husband, Rico, were performing.
At 30:07 Mandy and Sharidan from Bratz: Passion 4 Fashion Diamondz can be seen eating at a diner. As Mandy and Sharidan are enemies it's likely this is just MGM reusing character models and not a camo appearance.
The first woman who visits Jade's boutique has the same character model as Mrs Jones.
At around 59:41 Mandy, Sharidan and Cruise can bee seen in the audience watching the concert.
In Bratz: Genie Magic, Yasmin wants to wish to build an animal shelter. In Pampered Pets, her wish comes true.
The movie is dedicated to Kay Shoaff-Deckman, a producer who worked on the film.
Cover Art
Movie Screencaps
Video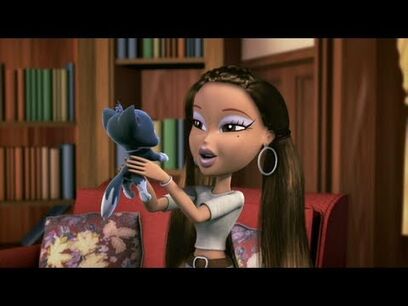 Links