Bratz: Rock Angelz is a 2005 American computer-animated film based on the Bratz fashion doll line manufactured by MGA Entertainment. Directed by Mucci Fassett and written by Peggy Nicoll, it is the second instalment in the Bratz film series.
Rock Angelz first premiered on Cartoon Network in the U.S. in 2005 as a television film, and was eventually released on DVD by 20th Century Fox Home Entertainment (and later re-released by Lionsgate) the following week.
Synopsis
Bratz: Rock Angelz follows Jade, Sasha, Yasmin, and Cloe as they start their own teen magazine, traveling to London to obtain stories for their premiere issue - but not if Burdine and the Tweevils can help it!
Plot
The movie opens with the Rock Angelz, Cloe, Jade, Yasmin, Sasha and Roxxi washing Roxxi's car in preparation for their upcoming concert. When their hit song, 'So Good' plays on the radio they reject their cleaning duties to jam out and Cloe decides to tell the audience the story of how they became rock stars.
Several months before the opening scene, Cloe, Yasmin and Sasha are hanging out in the Smoothie Bar, drinking smoothies and reading horoscopes. Cloe's horoscope states she is a drama queen, which she quickly rejects. Yasmin's horoscope tells her she will meet a handsome man in her future, just as Eitan, a waiter at the smoothie bar, brings her her drink and smiles at her, delighting her friends. Sasha's horoscope announces her to be a control freak, which her friends agree with.
Jade arrives and gleefully announces she has been offered a student internship at 'Your Thing' magazine, a popular fashion and beauty magazine run by Burdine Maxwell. Kirstee and Kaycee, known to the Bratz as the 'Tweeviles' (evil twins) arrive at the juice bar and mock the Bratz for their fashion sense. Cameron, Cloe's friend since 2nd grade and his friend Dylan arrive on skateboards. Whilst Cameron makes a smooth entrance, Dylan fails at an attempt to perform a trick and accidentally sends his skateboard flying straight towards Kaycee's nose. In a panic she drops her milkshake on Kirstee. Distraught at having her dress ruined, Kirstee insults Dylan and leaves with her sister.
Cloe borrows Dylan's skateboard and performs some cool tricks, much to Dylan's surprise and Cameron's delight.
Jade's first day at Young Thing does not go as planned. Burdine shuts down all her ideas and treats her other interns Kirstee and Kaycee more kindly than Jade. Kristee and Kaycee receive a modelling assignment in which they take bad pictures of Jade to use as the 'don'ts' in the magazines 'fashion do's and don'ts' article. Despite Jade agreeing to help the Tweeviles with their one task, they refuse to return the offer when Burdine burdens Jade with a long list of mundane tasks. As Jade attempts to do her work which includes hoovering the floor, sorting paperwork and steaming clothes, the Tweeviles attempt to sabotage her progress whenever possible.
After seeing the article, Jade is upset at the idea she may be a 'fashion don't'. She calls Cloe for advice, who reminds her that this is her dream and she should try and stick it out. Kirstee and Kaycee overhear the phone call and mock Jade for being upset. Jade returns to the office and brings Burdine her mail. Although she has received invitations to many runway shows, nightclub openings, concerts and awards shows, Burdine announces they are all junk, tells Jade to throw them away, order her lunch and get her shoes polished. Jade asks the Tweeviles with help ordering Burdine's lunch. They order a burger, but when Jade presents it to Burdine she is outraged at being presented with carbs and fires Jade.
Cloe, Yasmin and Sasha confront Jade, announcing her to be a 'fashion superhero'. They offer to take her shopping which briefly improves her mood. The Tweeviles arrive at the mall and mock Jade for being fired. They get smoothies and Yasmin suggests they create their own magazine. The girls agree, although Cloe worries about how they will manage to afford an office. Sasha manages to rent a rundown office in the same building that hosts Your Thing's office space. The girls makeover the office with the help of Cameron and Dylan.
Cloe finds the pink pumps Burdine gave to Jade to get polished and Yasmin gets an idea to play a prank on the Tweeviles. Whilst Kaycee and Kirstee are gossiping about Burdine in the communal bathroom, Jade hides in the toilet wearing the pink pumps. Once the twins see, they assume Burdine overheard their gossip and will fire them. They leave in a panic, and Jade, Cloe, Sasha and Yasmin step out of the stalls and laugh at the success of their prank. Kaycee and Kirstee apologies to Burdine, whilst accidentally revealing that they think she is 30-years-old, angering Burdine.
Kirstee and Kaycee find out about the magazine and mock the girls, calling them 'brats'. Jade suggest the name 'Brats' as potential name for the magazine, Sasha's adds a 'z' in place of an 's', making the name of the magazine official 'Bratz'. Jade finds an invitation to the opening of 'Pinz', an exclusive punk rock club in London, UK amongst the invitations Burdine told her to throw out. The girls decided to attend the opening to score an article for their opening issue of their magazine. On the plane, Cloe meets Nigel Forrester, the 9th Duke of Lessex. Cloe is immediately smitten by Nigel, which upsets Cameron.
Burdine has Kaycee and Kirstee pack her belongings, intending to follow the girls to London and attend the club opening, with or without an invitation. The girls, Cameron and Dylan arrive at their hotel and unpack their belongings, then spend the next day touring the city of London. The next day the girls make a plan for the magazine and delegate tasks, but Cloe cancels her work plans when Nigel asks her out on a date.
Cloe and Nigel have a dinner date. Nigel is very romantic and declares Cloe his 'pretty princess'. The two waltz and have a good time. Back at the hotel, the girls are excited to hear the details of that date, whereas Cameron mocks the idea of Nigel being Cloe's 'Prince Charming'. Although Cloe is supposed to work on the magazine the next day with her friends, she again cancels, deciding instead to go to Nigel's mansion for another date. Angry and upset, Yasmin decides to work on their article by herself. Whilst getting a scoop at Buckingham Palace, she finds a lost bulldog named Ozzy wandering the street and takes him back to the hotel whilst she tries to find his owner.
Burdine and the Tweeviles arrive in London and move into the same hotel the Bratz are staying in. Whilst doing their report, Sasha hogs the camera and makes a schedule without consulting Jade, upsetting her. Back at the hotel, Yasmin is typing her report when Sasha and Jade arrive, strop off into separate rooms and slam the door. When Cloe arrives at the hotel, Jade and Sasha begin to argue, with Jade announcing Sasha to be a 'bossy control freak' and 'worse than Burdine'. Cloe tries to calm the situation, but Sasha tells her she has no idea what's going on because she hasn't been around and Yasmin has had to do Cloe's tasks for her. Although Cloe insists Yasmin doesn't mind, Yasmin admits she does and wishes she was around more. Cloe admits to having agreed to go to Nigel's brother's dinner party the same night Bratz magazine is supposed to be covering the Pinz club opening.
The girls spend some time apart, working on their articles and wandering around London. Nigel arrives to pick Cloe up but asks her to change into something more elegant, making both her and Sasha upset. Sasha and Jade apologise to one another and make up. To celebrate the girls, minus Cloe, go shopping. At the Forrester home, Nigel refers to the Pinz club as tacky and Cloe's friends as misfits. Cloe defends her friends and Nigel quickly moves onto Kirstee, referring to her as his new 'pretty princess'. Cloe, realising Nigel never really loved her and uses the same lines on every girl he meets, breaks up with him and leaves.
Cloe walks home with tears in her eyes, having lost her best friends for a boy who never even loved her. Cameron finds her and gives her a lift to the hotel on his motorbike. Back at the hotel, Cloe apologises to her friends who quickly forgive her. They present her with an outfit that matches their punk aesthetic for the club opening. However when the girls arrive at the club they find out their names aren't on the entry list. Ozzy, the dog Yasmin has been caring for, escapes from her hold into the arms of Byron Powell, a celebrity who had a bad experience with Burdine on the plane to London. As a thank you for finding his lost dog, Byron gets the girls into the club as his guests. Byron gives them backstage passes for a the 'Save the Universe' concert happening the next day. Cameron asks Cloe to dance and everyone has a good time.
Whilst the Bratz are out, Kirstee and Kaycee sneak into their hotel room and steal the concert tickets and backstage passes. Cloe finally shows Cameron how to do tricks on a skateboard and the girls have a water fight with Dylan. Yasmin returns to the hotel and finding the tickets gone, attempts to find Byron in the hope he will replace them. She fails and returns to the hotel upset, but her friends forgive her for 'losing' the tickets. Sasha finds Kaycee's nose bandage on the bedroom floor and realises the Tweeviles stole their concert tickets. Jade decides she's not going to let Burdine destroy her dreams again. Since only bands get into the concert without tickets, the girls decide to form a rock band, Bratz Rock Angelz.
The girls get into the concert by pretending to be famous, but once inside they learn the concert is cancelled because Crash, the band leading the concert, have broken up. Roxxi, the remaining member, isn't ready to perform solo and agrees to join the Bratz Rock Angelz. The band performs the song 'So Good' and receives a large round of applause.
Bratz Magazine is a success and Burdine is so mad she stress-eats a whole plate of burgers and forces Kaycee and Kirstee to scrub her feet. Byron gives the girls a recording contract, they become best friends with Roxxi, go on a tour and their debut album places first in the charts.
Cast
Characters
Soundtrack
Main article: Bratz: Rock Angelz (Album)
Bonus Tracks
Video Game
Main article: Bratz: Rock Angelz (Video Game)
A tie-in video game was developed by Blitz Games and published by THQ. The game was released on the PlayStation 2, GameCube, Game Boy Advance, and Microsoft Windows. An Xbox version was planned, but never released. The game has sold 1.4 million copies.
Merchandise
Main article: Rock Angelz
Rock Angelz is a line of Bratz dolls released in 2005 based on the movie and video game of the same name.
Possible Sequel
In an Instagram live of Nevra making banana bread, Eitan can be seen commenting 'Producing Rock Angelz 2 right now', hinting at a possible sequel. [1]
Trivia
Eitan makes an appearance at the beginning of the movie but has no lines.
Bratz: Rock Angelz marks the first appearance of Roxxi, Kirstee, Kaycee, Byron and Burdine.
Roxxi's name is incorrectly spelled in the credits as Roxxy.
Cover Art
Movie Screencaps
Movie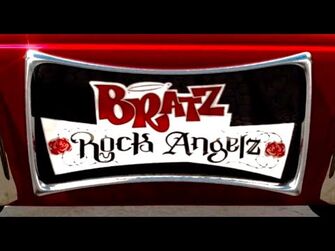 Internal Links
External Links
Sources