Bratz: The Movie is a 2007 American musical comedy film based on the Bratz fashion doll line manufactured by MGA entertainment. Directed by Sean McNamara and written by Susan Estelle Jansen, Adam De La Peña and David Eilenberg, it is the eight instalment in the Bratz film series and the only live-action adaptation. Starring Nathalia Ramos, Skyler Shaye, Logan Browning, and Janel Parrish, the story revolves around the four teenage girls, the origin of their friendship and the social pyramid that tries to make the Bratz conform to archetypal high school cliques.
Synopsis
During their first year of high school, four best girlfriends face off against the domineering student body President, who wants to split them up into different social cliques.
Plot
Four teenage friends — Cloe, Yasmin, Sasha, and Jade — are about to start high school. Self-centered Meredith Baxter Dimly wants everyone to belong to a clique and goes about organizing students. She does not like the independent spirit of the four girls and plots to destroy their friendship and make them conform to her pre-fabricated cliques. Cloe is an amazing soccer player, meets Cameron, and is instantly smitten. Sasha is recruited as a cheerleader. Jade joins the science club. meets Dexter, and designs great outfits. Yasmin joins journalism, even though her real passion is singing even though she hasn't realized yet. She also feels lonely as her friends are busy with their own cliques. She also meets Dylan, who is deaf but can lip read. The friends begin to drift apart, as they are compelled to stay within their cliques.
Two years later, when an accidental food fight causes them to get detention, they realize that they miss being BFFs and decide to be friends again. They also try to get the other schoolmates to socialize outside their cliques, but their attempts fail when Meredith's 2nd Super Sweet 16 party (which ends disastrously) has them seated with their original cliques.
The upcoming talent show and its prize of a scholarship give them the idea to bring all the cliques together again with an act, but the chances are slim with Meredith's constant attempts to steal the spotlight. In the end, there is a tie. Meredith gets the trophy, but the girls get the scholarship, which they later give to Cloe.
Cast
Characters
Soundtrack
Main article: Bratz Motion Picture Soundtrack
The following song don't appear on the soundtrack but are featured in the movie:
Video Game
Main article: Bratz 4 Real (Video Game)
Bratz: 4 Real is a video game adaptation of the movie was released to the Nintendo DS and Microsoft Windows on November 5, 2007. The game was developed by Barking Lizard Technologies and was published by THQ.
Trivia
Jon Voight (Principal Dimly) is Skyler Shaye (Cloe)'s godfather.
On some of the films posters the girls each hide their nose behind an object. This is a reference to the Bratz artwork in which the girls did not have noses.
Reception
It was released by Lionsgate on August 3, 2007. The film was panned by critics and fans alike and was a box office bomb, only earning half of its $20 million budget in North America and was runner up at the 28th Golden Raspberry Awards for worst picture.
Cover Art
Wallpapers
Screencaps
Promotional Images
Trailer
Movie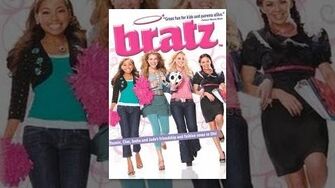 Behind the Scenes
Links