Bratz: 4 Real is a video game adaptation of Bratz: The Movie released to the Nintendo DS and Microsoft Windows on November 5, 2007. The game was developed by Barking Lizard Technologies and was published by THQ.
Description
Nintendo DS
"The Bratz are excited about their first year of high school, but all the students are stuck in cliques! Relieve the coolest moments from first-ever feature film as the Bratz help unite all the students in one fabulous talent show act."
PC
"The Bratz are excited about their first year of high school! However, Meredith, the conniving school class president, formulates a plan that splits up the girls and the entire school into different cliques. But the Bratz aren't so easy to defeat. They decide to collaborate in order to break up the cliques and teach them that they are more than who they hang out with. The Bratz unite all of the students in one fabulous act to compete in a talent show that will bring everyone together and help them to overcome each others differences."
Manufacturers Description
"The Bratz are in their first year of high school! They're going to be the most fabulous friends ever to grace Carry Nation High School! But the school class president has different plans and breaks up the Bratz girls into designated cliques. The girls want to find a way to bring all the cliques in the school together...and what better way than through a fabulous talent show!"
Features
Food Fight: Throw food at other people to prevent them from throwing food at you.
Cooking mini game: Cook pigs in blankets, smoothies and more!
Dress-up: Dress up the Bratz in some totally rocking outfits!
Cast
Nathalia Ramos as Yasmin
Adrienne Wilkinson as Meredith
Juile Nathanson as Quinn
Laura Simms as Katie
Nolan North as Principal Dimly/Dylan
Kim Morgan Greene as Cloe's Mom
Yuri Lowenthal as Dexter
Playable Characters
Trivia
The Bratz characters are recoloured version of the same model.
The smoothie bar the Bratz frequent in previous movies and TV shows is shown in the game but not the film.
Eitan, who normally works behind the smoothie bar is replaced with a unknown woman. This might be because Eitan is normally Yasmin's love interest, and in the movie he was replaced with Dylan who is normally Jade's love interest.
Gallery
Walkthrough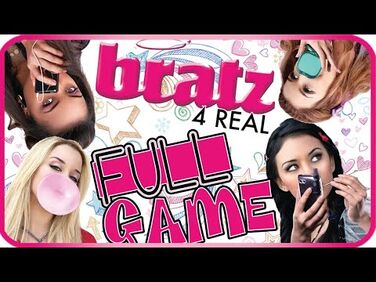 External Links