Colin, known as Thunderbolt by his friends, is a Lil' Boyz character first introduced in the 2nd edition of the Lil' Boyz line.
History
Colin is one of the core members of the Lil' Boyz pack along with Deavon, Lakin and Mikko. He appears in all Lil' Boyz lines except the debut line and appears on the packaging of a lot of Lil' Bratz playsets.
Appearance
Colin has light skin, brown hair and warm brown eyes.
Relationships
Friends
Colin is best friends with Mikko, Deavon and Lakin. He is good friends with Ailani, Talia, Nazalia, Zada and Rinnie.
List of Appearances
Quotes
"Hi! My name is Colin, but my friends call me Thunderbolt!"[1]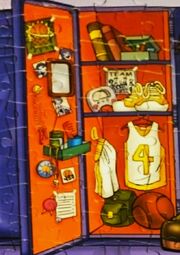 Likes & Interests
From Colin's locker we know he enjoys basketball and appears to be on the basketball team, his jersey number being 4. He also has several pictures of what appears to be a dark haired girl in his locker, which could possibly be Zada or Nazalia.
Trivia
Colin is a name of Gaelic origin meaning 'whelp'.
Colin shares the name with another character released in 2009.
Artwork
Dolls
Logo
Sources