Meygan, known as Funky Fashion Monkey by her friends, is a Bratz character that was introduced as a doll in the Xpress It! line and on screen in Bratz: Starrin' and Stylin'.
Meygan is sometimes considered the 5th member of the Bratz pack. She is one of the most produced Bratz characters outside of the core four along with Phoebe, Roxxi, Fianna and Dana.
Creation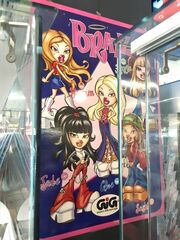 Meygan was introduced in 2002 and was the first additional character introduced to the Bratz pack. She was originally named Kayla in promotional art, but her name was changed to Meygan for the release of the Xpress It! line for unknown reasons.
History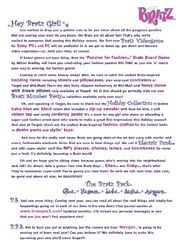 Meygan was born and raised in Stilesville, California. She attended Stiles High and moved away from Stilesville in 2003, but moved back to town at some point. She is the president of the Rock Angelz fan club and sometimes writes articles for Bratz magazine.
Appearance
Meygan has varying eye colors, often green or blue, a pale skin tone, and varying shades of long red hair.
Personality
Meygan is always on the hunt for a new adventure, whether that'll be traveling to a new land or trying out something new right at home. Meygan enjoys meeting new people, hosting parties, and traveling. She always keeps in touch with all of the friends she has made while traveling, and they help her keep up with the latest exotic trends.
Relationships
Family
Meygan has an older sister named Tanya who appears in Bratz Kidz: Sleepover Adventure. She has one cousin, Meygana Broomstix featured in the Bratzillaz doll line and animated series.
Friends
Meygan is good friends with Cloe, Dana, Jade, Sasha, Yasmin, Nevra, Cade, Cameron, Dylan, Eitan and Koby.
Romance
Koby
Meygan has also been linked romantically to Koby in promotional images, magazines and commercials.
Bryce
Bryce was used as Meygan's partner in the blind date promotional photoshoots.
Voice Actors
Quotes
"Hey! My name is Meygan! My friends call me "Funky Fashion Monkey" because even when I just hang, I still look good!"
"Hi, I'm Meygan! My friends call me 'Funky Fashion Monkey' cause I've got a wild sense of style!"[2]
Trivia
The name Meygan is of Greek origin and means "great" or "mighty."
Meygan is generally considered the fifth member of the Bratz clique. Although she competes in popularity with Dana, both are far more popular than Raya who is generally disliked by fans.
Meygan's zodiac sign is Aries, since her birthday is on April 15.
Meygan is afraid of clowns. [3]
Media
Artwork
For a full list of Artwork of Meygan, check out "Gallery of Meygan Artwork"
Dolls
For a full list of Meygan dolls check out 'List of Meygan Dolls & Appearances'.
Logo
Sources