Talking Bratz is an animated webseries uploaded on the official Bratz TikTok account as part of the brands 20th anniversary celebration.
Announcement
The series was announced on the Bratz Instagram account on 28th June 2021.
"Hey Bratz Pack— Pretty Princess here! Me and the girls have been working on a super rockin' senior project that we can't wait to share with you! Can you guess what it is?! 📹📺 Keep your eyes on our Tik Tok this week( @bratz ) to find out!! 👄 #bratz" [1]
Plot
The set is in a fictional talk show that is hosted by Felicia whereas she interviews everyone. Based on the main Bratz Pack's (Cloe, Jade, Sasha and Yasmin) graduation outfits, they have finally graduated from high school.
Cast
Characters
Episodes
#
Name
Air Date
1
Episode One
2nd July 2021
Proud 2 introduce episode 1 of talking Bratz - a talk show serving all the most scorchin' tea with your host, Felicia!
2
Episode Two
4th July 2021
Dylan gets held accountable for his actions in the Bratz Rock Angelz Video Game! Today in part 2 of talking Bratz!👄🎮
3
Episode Three
25th November 2021
Welcome back besties! Talking Bratz feat. Jade and Sasha is now live! 👄📺
4
Episode Four
2nd December 2021
We have a special edition of Talking Bratz today! Felicia is chatting all things Bratz x @GCDSWEAR with designer Giuliano Calza! 👄💜 #Bratz
5
Episode Five
21st April 2022
Welcome back to a very special episode of Talking Bratz w special musical guests: the Bratz Rock Angelz! 👄🎸 Link in bio to shop dolls and cruiser or check your local target to shop the dolls irl! #bratz #rockangelz #felicia #talkingbratz
Controversy
Independent clothing brand A U N É accused Bratz of ripping off their designs for Yasmin's outfit in an Instagram post. [2] In a comment on the post the official Bratz Instagram account stated that their intention was to get permission to use the designs and tag the creator, but due to human error this never happened. They later pinned a comment on TikTok crediting A U N É.
Trailer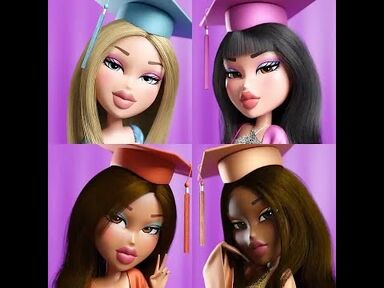 Sources
Internal Links
External Links