Total Fashion Makeover is an iOS game released by Outright Games on May 1st 2021 as part of Bratz 20th anniversary celebration. The game can be downloaded on the app store here.
Announcement
The game was announced on the Bratz official Instagram page on 1st May 2021. [1]
"Today is the day, Bratz Pack! *TOTAL FASHION MAKEOVER*— our official app game with @outright_games — has launched! Link in bio to download for iOS and Android. Have fun and make sure to post and tag us in all of your scorchin' new looks! 🎮💕 #bratz"
Manufactures Description
"The Bratz are back! Join Cloe, Sasha, Yasmin and Jade in an all-new mobile game experience!
Choose highly fashionable clothes, hairstyles, makeup, and even furniture as you become a social media star! Deal with dramatic characters like the Tweevils and work with the iconic Bratz cast to rise through the ranks of the fashion world. Play fun, challenging match 3 puzzles and earn Bratz Bucks to help buy that perfect look!" [2]
Features
CHOOSE from lots of fashionable clothes to create the perfect look!
MAKEOVER your life!
DECORATE your room as well as your appearance!
DRAMA is everywhere, be ready to meet some wild personalities!
SOLVE addictive puzzles with challenging obstacles!
STYLIZE your avatar to stand out on the red carpet!
BLAST through levels with exciting power-ups with explosive benefits!
Gameplay
The player has to complete tile-matching puzzle type games to win gold to buy new furniture for the apartment, so Burdine doesn't find out it's a mess. The player can also enter fashion shows and takes pictures on social media to gain followers that unlock short stories and extra content.
Chapter One
Chapter One was released May 1st 2021.
The story involves the players character moving into Cloe's old apartment the night after she throws a moving out party. Kaycee and Kirstee, who were at the party, somehow managed to destroy the place, took pictures of the Bratz and plan to send them to the landlord, Burdine, to totally humiliate the Bratz in the process.
Chapter Two
Chapter Two was released June 1st 2021.
Chapter two reintroduced Nevra and Roxxi who are seek the players help with fixing the destroyed runway project.
Chapter Three
Chapter Three was released July 6th 2021.
Cameron and Eitan are planning to perform their new song, 'To The Max'. Meanwhile, Burdine wants to get famous on the StompBox app (a parody of Tiktok). They seek the Bratz help in decorating the venue.
Chapter Four
Chapter Four was released on august 2021
Yasmin wanted to renovate the declining Stilesvile Mall with modern touches. Meanwhile, Dana comes in, seeking for fresh nostalgia styles.
Chapter Five
Chapter Six
Characters
Mentioned Characters
Trivia
The Bratz girls seem to be older than previous instalments, considering Cloe now lives on her own.
Total Fashion Makeover marks that first appearance of Eitan in 10 years. He last appeared in the Boyz on the Mic line in 2011.
Gallery
Trailer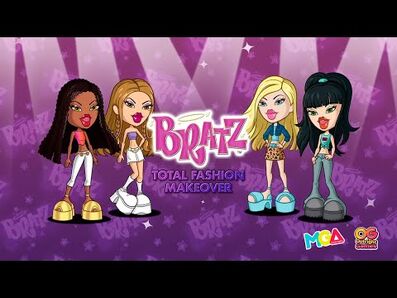 Sources